Parents for Future Heidelberg
Mütter – Väter – Omas – Opas – Freundinnen – Freunde…
Parents for Future Heidelberg heißt alle Klimaschützer willkommen!!
Lasst uns selbst aktiv fürs Klima einstehen – nehmt Kontakt auf – gemeinsam sind wir stark!
Werdet aktiv und kommt zu Treffen, Veranstaltungen der Parents –
Macht bei PARENTS 4 FUTURE aktiv mit!
Oder bleibt einfach auf dem Laufenden über Termine, Themen u.v.m. – jeder kann sich auf seine Weise einbringen!
Wir unterstützen die Fridays For Future einschließlich der Forderungen Fridays for Future. Warum?–> hier klicken
Unsere Homepage: http://parentsforfuture-heidelberg.de/
Video der Parents for Future Heidelberg
Video der globalen Demonstration am 20.09.2019
Einfach per WhatsApp auf www.parentsforfuture.de unter "Regionalgruppen" sich bei P4F Heidelberg anmelden
oder per Email hallo sagen unter:
parents4futureHD@gmx.de
oder einfach hier im Kontaktformular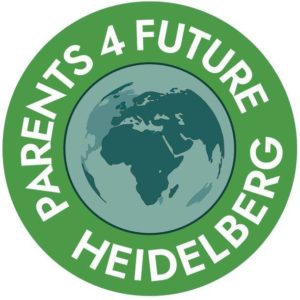 Weil jetzt noch was zu ändern ist
Die Klimakatastrophe ist Fakt. Sie ist Konsens der weltweiten Wissenschaft: Kein Hirngespinst. Wir stecken bereits mitten in diesem Prozess der Klimaerwärmung. Aktuellste Informationen zum Klimawandel: –> hier klicken
Wir wissen aber auch: Das Tempo in Sachen Klimaschutz muss sich mindestens um das 5-fache erhöhen. Allerdings schließt sich das Zeitfenster wohl ca. 2024. Und danach ist eine unkontrollierbare Kettenreaktion zu erwarten. Diese trifft ganz konkret v.a. diejenigen, dir jetzt unter 25 Jahren sind.
Deswegen: Bis in 5 Jahren muss eine massive globale Wende herbeigeführt werden. Das heißt, der Beginn dazu muss sofort geschehen. Eben erreicht uns die Nachricht, dass der Permafrostboden bereits an einigen Stellen in Kanada so weit aufgeweicht ist, wie es erst für 2090 erwartet wurde: 70 Jahre früher! – Das bedeutet, dass die Kipp-Punkte bereits eintreten. Daher – der Handlungsbedarf ist: jetzt!
Ein Kind leidet an einer schweren Krankheit. Sie bricht im Alter von 20 Jahren aus und wäre in den nächsten Jahren noch verhinderbar. Würden wir hier warten, bis es so weit ist?
Also: Die Zeit von hoffen und beten, leugnen oder anderweitigem vermeiden ist definitiv vorbei. Allein aufgrund der Fakten. Wer jetzt nicht weiß, was er zu tun hat, muss sich später verantworten: vor den kommenden Generationen und sich selbst.
Noch was:  Fridays for Future ist kein Schuleschwänzen.
Parents – Keine Zeit?
Dass wir alle eigentlich "keine Zeit" dafür haben, ist klar. Wir sind ja viel zu sehr beschäftigt. Gerade die "Parents". Aber es bleibt uns keine andere Wahl. Denn in nicht mehr allzu langer Zeit werden wir täglich übers Wetter reden müssen. Ob wir wollen oder nicht. Und darüber, wie wir damit in Beziehung stehen.


Was tun?
Hören wir doch mal auf die "Fridays":
Es gibt kein Planet B.
Die Natur verhandelt nicht
Wir müssen aber gar nicht schwarz malen. Denn: Die gemeinsame Arbeit am Weltklima verbindet ungemein und gibt Kraft:
Über Parents for Future, dürfen nicht nur Eltern aktiv sein, sondern auch Großeltern, Verwandte, Freunde, denen die Zukunft der Kinder, der Erde etwas am Herzen liegt. Es ist eine stetige wachsende Bewegung in Deutschland, Europa und weltweit.
Weitere konkrete Lösungsansätze von den Parents for Future:
Wenn wir für die Zukunft unserer Kinder etwas tun wollen, können wir zur Wahl gehen. Fürs Klima wählen. Schreibt Leserbriefe an große Fernsehsender und Zeitungen. Jeder Leserbrief steht für 1.000 Menschen.
Nicht Notre-Dame und Brexit sind das Problem, sondern die Klimakatastrophe. Unterstützt und spendet an diejenigen, die sich aktiv für Klimaschutz einsetzen.

links

Natürlich braucht es die Achtsamkeit im alltäglichen Umgang mit den Ressourcen. Hier können schon einfache Handlungen vieles bewirken. Zum Beispiel der Wechsel zu einem Naturstromanbieter. Oder Veränderungen bei Ernährung und Kleidung. Ein anderes Verkehrsmittel. U.v.m.


–> Spenden an die Fridays –> hier klicken
Weitere Informationsmaterialien:
Videos:
Ein Vortrag von Prof. Rahmstorf vom Potsdamer Institut für Klimafolgenforschung von 2017 und aktueller denn je: https://www.youtube.com/watch?v=az8cHdHFopE
Ein Vortrag von Dr. Gregor Hagedorn, Wissenschaftler am Museum für Naturkunde Berlin, einer der Initiatoren der Scientists for future: https://www.youtube.com/watch?v=RAyfqUWjFXQ
Ein Interview von Prof. Dr. Mojib Latif vom GEOMAR Helmholtz-Zentrum für Ozeanforschung in Kiel, geführt in 2016: https://youtu.be/c9mDub8c954
Eine Video-Empfehlung der Scientists for Future: https://www.youtube.com/watch?v=FoMzyF_B7Bg
Gretas Rede vor dem Europäischen Parlament: https://www.youtube.com/watch?v=nKNEVP473L0&feature=youtu.be
Bayrischer Rundfunk: verpasste Chancen in den 70-igern: https://www.youtube.com/watch?v=RPf3fQeIQAU
Zum Lesen:
Die Fakten (von Scientists for future): https://www.scientists4future.org/fakten/
Weitere Fakten: http://climatefactsnow.org/
Ein Spiegel-Artikel:
https://www.spiegel.de/wissenschaft/mensch/fridays-for-future-die-kinder-sind-laengst-noch-nicht-wuetend-genug-a-1260262.html
Die Forderungen von Parents for Future:
–> hier klicken
Stellungnahme der Parents zum Nationalen Energie- und Klimaplan und den Forderungen der Fridays for Future: Pressemitteilung 09.07.-2
Süddeutsche:
https://projekte.sueddeutsche.de/artikel/wissen/bilanz-des-sommers-und-der-hitzewelle-2018-e547928/
England hat den Klimanotstand aufgerufen:
https://www.reuters.com/article/us-britain-climatechange-parliament/after-protests-britains-parliament-declares-climate-change-emergency-idUSKCN1S74OA
Heidelberger Institut für Psychologie solidarisiert sich mit den Fridays:
http://f20.blog.uni-heidelberg.de/2019/05/10/hce-stellungnahme-zu-den-forderungen-der-heidelberger-fridays-for-future-bewegung/
Aktuellste Informationen zum Klimawandel allgemein:
Weitere Informationen:
>> blog posts
Die besten Zitate von Greta –> klicke hier.
Kontaktiere die Parents for Future Heidelberg jetzt:
Einfach per WhatsApp auf www.parentsforfuture.de unter "Regionalgruppen" sich bei P4F Heidelberg anmelden
oder per Email hallo sagen unter:
parents4futureHD@gmx.de
oder einfach hier im Kontaktformular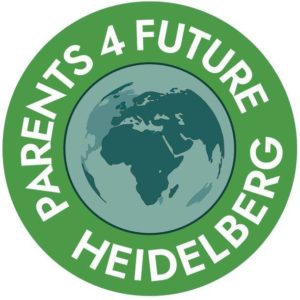 >> back to home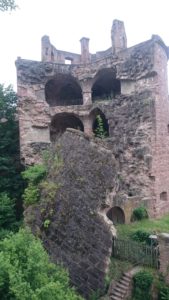 ---
Parents for Future Heidelberg
Mothers – Fathers – Grannies – Granddads – Girlfriends – Friends …
Parents for Future Heidelberg welcomes all climate protectors !!
Let us actively support the climate – get in touch – together we are strong!
Become active and come to meetings, events of the parents –
Join PARENTS 4 FUTURE!
Or just stay up to date on dates, topics u.v.m. – Everyone can contribute in their own way!
We support the Fridays For Future.
Simply sign up for P4F Heidelberg via WhatsApp on www.parentsforfuture.de under "Regionalgruppen"
or say hello by email:
parents4futureHD@gmx.de
or simply here in the contact form

Because there is still something to change
The climate catastrophe is fact. It is a consensus of worldwide science: no fantasy. We are already in the middle of this process of global warming.
But we also know that the pace of climate protection must increase at least 5-fold. However, the time window closes in probably 2024. And then an uncontrollable chain reaction is to be expected. This applies quite concretely v.a. those who are now under 25 years old.
Therefore, a massive global change must be brought about within 5 years. That means the beginning has to be done immediately. We have just received the news that the permafrost has softened in some places in Canada so far, as it was only expected in 2090: 70 years earlier! – This means that the tipping points are already occurring. Therefore – the need for action is: now!
A child suffers from a serious illness. It breaks out at the age of 20 and would be preventable in the next few years. Would we wait here until the time has come?
So the time of hope and pray, deny or otherwise avoid is definitely over. Alone because of the facts. Anyone who does not know what he has to do now has to answer later: before the next generation and himself.
Parents – No time?
It's clear that we all have "no time" for it. We are too busy. Especially the "Parents". But we have no choice. Because not too long ago we will have to talk about the weather every day. If we want to or not. And about how we relate to it.
What to do?
Let's listen to the "Fridays":
There is no planet B.
Nature does not negotiate
But we do not have to paint black. Because: The joint work on the world climate connects immensely and gives strength:
About Parents for Future, not only parents should be active, but also grandparents, relatives, friends who care about the future of children, the earth. It is a steady growing movement in Germany, Europe and worldwide.

Further concrete solutions from the Parents for Future:
If we want to do something for the future of our children, we can vote. Choose for the climate. Write letters to major TV channels and newspapers. Each letter to the editor represents 1,000 people.
Not Notre Dame and Brexit are the problem, but the climate catastrophe. Supports and donates to those who actively campaign for climate protection. links
Of course it takes the mindfulness in the everyday use of resources. Simple actions can do a lot here. For example the change to a natural power provider. Or changes in diet and clothing. Another means of transport. U.v.m.

Further information materials:
videos:
A lecture by Prof. Rahmstorf from the Potsdam Institute for Climate Impact Research from 2017 and more up-to-date: https://www.youtube.com/watch?v=az8cHdHFopE
A lecture by dr. Gregor Hagedorn, scientist at the Museum of Natural History Berlin, one of the initiators of the Scientists for future: https://www.youtube.com/watch?v=az8cHdHFopE

An interview by Prof. dr. Mojib Latif from the GEOMAR Helmholtz Center for Ocean Research in Kiel, held in 2016: https://youtu.be/c9mDub8c954

A video recommendation from the Scientists for Future: https://www.youtube.com/watch?v=az8cHdHFopE

Greta's speech to the European Parliament: https://www.youtube.com/watch?v=az8cHdHFopE

Bavarian Broadcasting: missed opportunities in the 70's: https://www.youtube.com/watch?v=az8cHdHFopE

To read:
The Facts (by Scientists for Future): https://www.youtube.com/watch?v=az8cHdHFopE
https://www.youtube.com/watch?v=az8cHdHFopE

More facts: https://www.youtube.com/watch?v=az8cHdHFopE
https://climate-change.org/klimawandel-climate-change-5-years-remaining-to-save-ourselves/
https://climate-change.org/hoch-ulla-klimawandel/
Additional Information:
>> blog posts
>> back to home