Wie mit Weihnachten umgehen, wenn die Klimakatastrophe vor der Tür steht?
Kann man noch einen Tannenbaum kaufen? Einen echten oder aus Plastik? Oder einen selbst aus Holz bauen? –> hier lesen
Hier findet Ihr ökologische Weihnachtsbäume.
Einen lebendigen Tannenbaum mieten: Weihnachtsbaumfreunde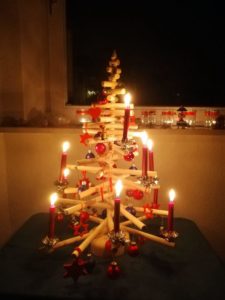 Geschenke:
zum Beispiel
siehe links
Sonstiges:
Im Stau stehen oder eine ruhige Zeit mit Familie zuhause verbringen?
Geschenke im Konsumrausch erzwingen oder sich gegenseitig Zeit schenken?
Weihnachtsbraten oder vegetarische Köstlichkeiten?
….
Frohe Weihnachten!
How to deal with Christmas when the climate catastrophe is just around the corner?
Can you still buy a christmas tree? Real or plastic? Or build one yourself out of wood? – there are also ecological christmas trees
Gifts:
for example sponsorships
at WWF
plans for the planet
bee sponsorship
…..
see links
Others:
Standing in a traffic jam or spending a quiet time with family at home?
Force gifts in the frenzy of consumption or give each other time?
Christmas roast or vegetarian delicacies?
….
Merry Christmas!