Scientists for Future Heidelberg
Wenn Sie Wissenschaftler auf irgendeinem Gebiet (Geistes- / Naturwissenschaften) sind und den Scientists for Future zustimmen, dass ein rasches Vorgehen gegen den Klimawandel selbstverständlich sein sollte, treten Sie den S4F Heidelberg bei!
Wir laden ein:
– alle Dozenten, Forscher und Wissenschaftler,
– aktive sowie ehemals aktive und
– aus allen Disziplinen.
Teilnehmen kann jede/r, die/ der einen fortgeschrittenen Abschluss (Master, Magister usw.) und entweder einen akademischen Titel (Ph.D., Prof. usw.) oder wissenschaftliche Referenzen vorweisen kann (z. B. wissenschaftliche oder Lehr-Veröffentlichungen, oder ein Doktorand ist bzw. auf ein Ph.D. oder ähnliches hinarbeitet).
Wir treffen uns zur Zeit mittwochs 14-tägig im Neuenheimer Feld. Genauere Informationen sind in unserem Newsletter zu finden.
Melden Sie sich für die Mailingliste an – schreiben Sie eine E-Mail
An: s4f.heidelberg@gmail.com
Betreff: S4F HD Newsletter (Bitte verwenden Sie genau den oben genannten Betreff in Ihrer E-Mail und Sie erhalten den Link zum Anmeldeformular.)
Wenn Sie den Newsletter bekommen wollen, ist dieses oben angegebene Verfahren das einfachste. Aufgrund eines automatisierten Ablaufs bekommen Sie automatisch den Newsletter zugeschickt.
Unabhängig vom Newsletter:
besuchen Sie uns auf Facebook: www.facebook.com/Scientists4FutureHeidelberg/
oder nutzen Sie für andere Anfragen einfach das Kontaktformular
Siehe auch
–> aktuellste Informationen zum Klimawandel
–> Fakten der Scientists for Future
–> Video der Scientists for Future Deutschland (feat. Greta Thunberg)
–> Video: Was passiert, wenn wir nichts tun?
Aktuelles der S4F Heidelberg
–> hier klicken
–> siehe auch Fridays for Future Heidelberg auf Facebook, Twitter, Instagram oder Whatsapp.
Scientists for Future Germany
—
Scientists for Future Heidelberg
If you are a scientist of any field (humanities/natural science) and agree with the scientists for future that rapid action against climate change should be a no-brainer – join the S4F!
We invite:
all scholars, researchers, and scientists,
active as well as formerly active and
from all disciplines.
Anyone can take part who has an advanced degree (master, magister, etc.) and either an academic title (Ph.D., Prof., etc.) or scholarly references (e.g., scientific or scholarly publications, or being a graduate student working toward a Ph.D. or similar).
We meet every two weeks on Wednesday in the Neuenheimer Feld. More detailed information can be found in our newsletter.
Sign up for the mailing list – write an e-mail
To: s4f.heidelberg@gmail.com
Subject: S4F HD newsletter (Please use exactly the aforementioned subject in your e-mail and you will receive the link to the subscription form.)
If you want to receive the newsletter, this above mentioned procedure is the simplest. Due to an automated process you automatically receive the newsletter.

Independent of the newsletter:
visite us on facebook:
www.facebook.com/Scientists4FutureHeidelberg/
or just use the contact form for other inquiries
See also
–> video of the scientists for future Germany – call to politics (feat. Greta Thunberg)
News of the S4F Heidelberg
–> click here
–> see also Fridays for Future Heidelberg on Facebook, Twitter, Instagram or Whatsapp.
Scientists for Future Germany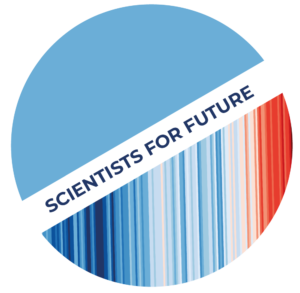 >> back to home